WOTEC – Strengthening our Communities with Guest Speaker – Cheryl Wolf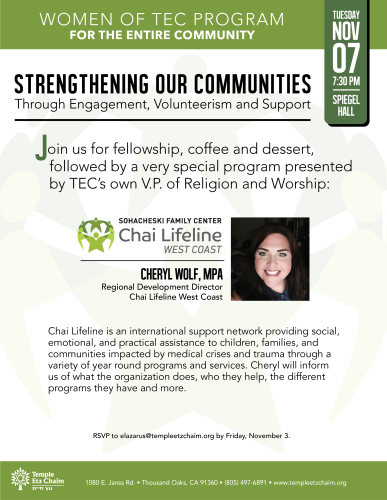 November 7, 2023, 7:30 pm
WOMEN OF TEC PROGRAM
For the entire community
STRENGTHENING OUR COMMUNITIES
Through Engagement, Volunteerism and Support
Join us for fellowship, coffee and dessert, followed by a very special program presented by TEC/s own V.P. of Religion and Worship:
Chai Lifeline is an international support network providing social, emotional and practical assistance to children, families and communities impacted by medical crisis and trauma through a variety of year round programs and services.  Cheryl will inform us of what the organization does, who they help, the different programs they have, and more.
Please RSVP to by Friday, November 3rd.